Description
Additional photos are available here for your perusal.

In the early 1990s, Honda turned the motorcycling world on its head when it released the CBR900RR Fireblade. The 'Blade's designer, Tadao Baba, primarily focused on keeping weight down above all else — a must considering his brief was to deliver a modern superbike with open-class power, weighing no more than your average 600 of the day. The "Fireblade" name is actually the result of a mistranslation of the word "lightning", and it didn't fit squarely into any of the existing major classes. Rather, Honda's goal was to create the best possible road-going superbike, and the eventual result was the 900RR.

At the heart of the original Fireblade — which didn't come to US shores until '93 — was a 893cc in-line four which was essentially a stroked three-quarter liter mill with a 70mm bore. Though it wasn't the most powerful engine of its day, the RR's 124 hp, 65 ft-lbs of torque, and 160 mph top speed were nothing to scoff at, especially with its svelte weight. A number of measures were taken by Baba and his team to ensure the Fireblade would hit its target weight. This included using a highly-developed lightweight frame, 16" front wheel, conventional forks instead of heavier inverted units (though the 900RR's front-end was designed to look like an upside down fork) and even the Swiss cheesed-nose.

In the end, Baba-san came through, delivering a 900 that tipped the scales at around 450lbs wet. It was less than 10 lbs heavier than the CBR600, and a whopping 100lbs lighter than most of the open-class competition of the day. In '94, Honda saved a bit more weight by replacing the steel upper cowl stay with an aluminum piece and replacing the aluminum cylinder head cover with a magnesium unit.

If you lived in England, 1994 also brought the debut of the fox-eye headlight style and one of the most iconic paint jobs to ever grace a Honda. Dubbed the "Urban Tiger" by fans, it had a much more boring official name from Honda: "Beige." Nowadays, the Urban Tiger has become a cult classic – the paint scheme had such staying power that Honda even brought it back 20 years later on the CBR1000RR and on their BSB racebike.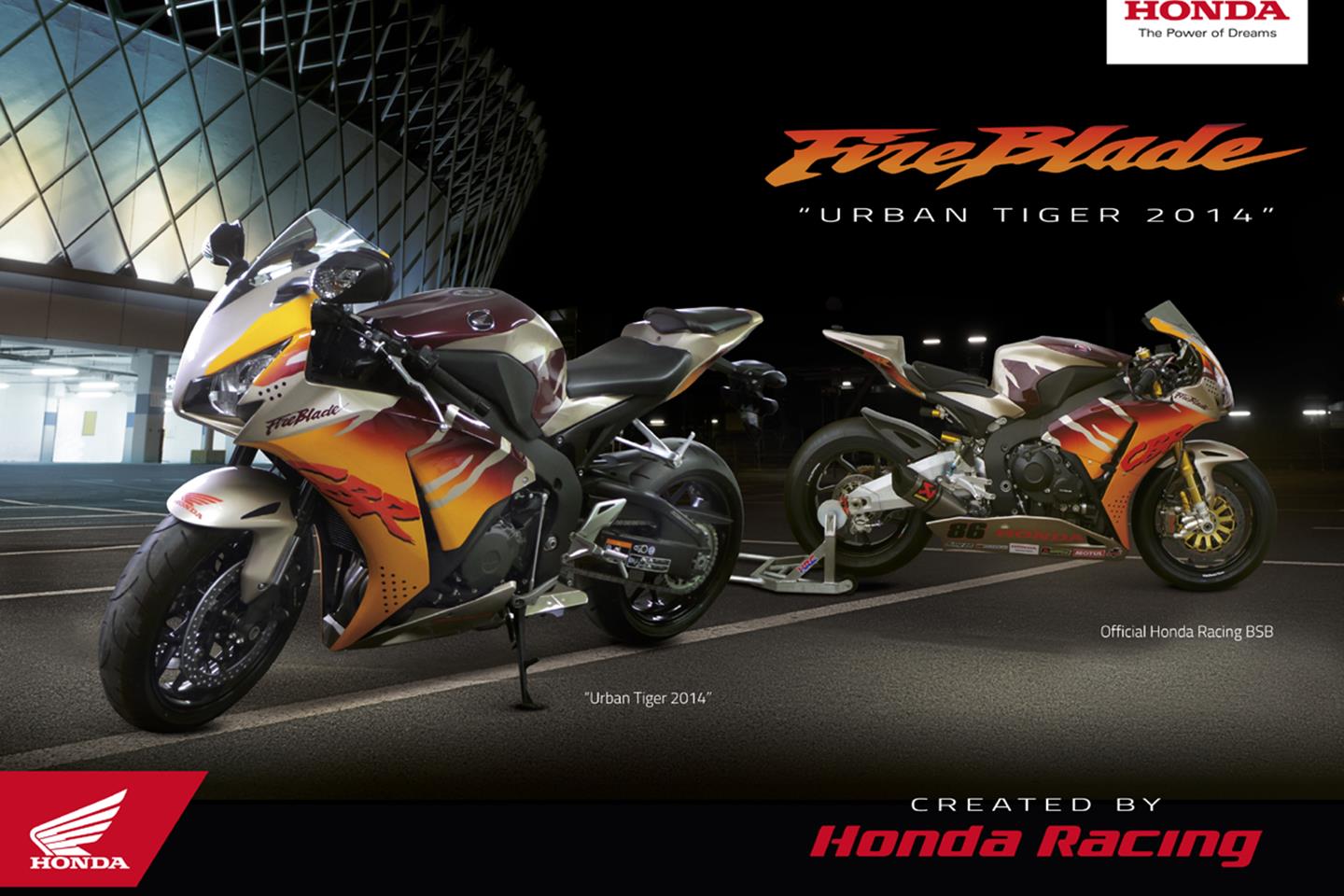 This example is VIN: SC282254155. It was sent to us from a dealership in England, the history is not known.

The odometer shows 53,296 kilometers (33,116 miles).

Maintenance:
In preparation for the listing, we cleaned the carbs, clean/lube/adjust the chain, and install new Bridgestone Battlax Hypersport S21 tires with date codes of 3621 and 4021.

Luce did the work, and this is his condition report:
Tire Years – Front: 2021; Rear:2021
Tire Life – Front/ Rear: 100%
Tire Pressure – Front/ Rear:32/36
Brake Life – Front/ Rear :60/50
Hydraulic Fluid – Ok
Engine Oil: Ok
Coolant: Ok
Low Beam: Ok
High Beam: Ok
Turn: Ok
Tail Light: Ok
Brake Light: Ok
Plate Light: Ok
Killswitch: Ok
Horn: Ok
Battery:12.8V
Charging Voltage: 14.2V
Test Ride: Ok; 1 mile ride, functions as intended
Modifications:
Braided brake lines.

Tinted windscreen.

Ariete tank protector.

Inside of the tank:

The sale includes two keys.

Cosmetic Blemishes: please see the album up top for all known cosmetic blemishes. Here is a selection:

Currently located at our facility in Santa Monica, California (please make an appointment for an inspection), this Honda is offered on a clean Oregon title. Have any CBR900RR stories or questions about this listing? Let us know in the "Comments" tab!