Description
Additional photos are available here for your perusal.

This Yamaha YZR500 OWJ1 was ridden by Kenny Roberts, Jr. for Team Marlboro Yamaha (which was managed by his father, Kenny Roberts, Sr.) during the 1996 World Championship. The OWJ1 was the final factory Yamaha that King Kenny was involved with before he left in 1997 to start his own team, bringing his son with him.

The 1996 model (OWJ1) debuted a new frame design that eliminated the seat rail as well as a new engine design with 54x54mm bore/stroke and a forged "powder metal" piston. Yamaha said these changes boosted "top speed by achieving a better balance of power and torque character based on total intake/exhaust efficiency rather than simply raising rpm." and claimed 177 horsepower from the 499cc 2-stroke V-4 engine.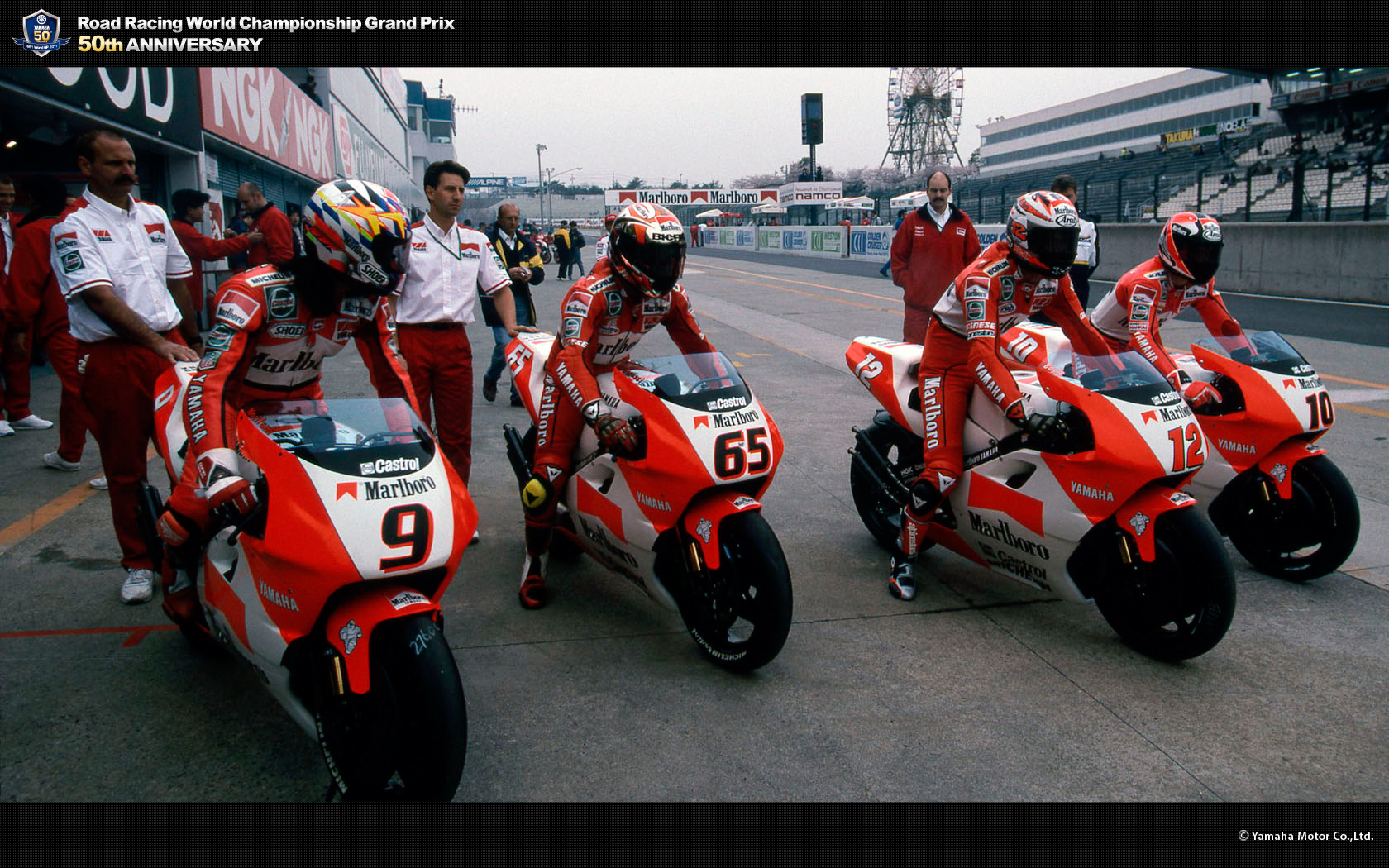 Kenny Roberts Jr would place 13th overall that season, with a season-best of 4th place at the Czech GP. KRJR's teammates that year were Norick Abe, Loris Capirossi, and Jean-Michel Bayle.

This machine still wears the Technical Control inspection sticker from the British GP round at Donington Park.

Kenny Roberts Jr qualified third at Donington with a time of 1'32.794 and he started with an early lead, but unfortunately he ended up going wide and crashing out on lap 9 (seen starting at 24:21 in the below video):

This example is VIN: F9-60/96-4.

There is no odometer, true mileage is unknown.

A connected follower of ours in England has told that this is the only OWJ1 in the world outside of Yamaha's factory.

After serving its race duty, this bike came into the possession of Kenny Roberts (we believe but cannot confirm that it was a gift). Kenny then sold it to Rick Degan of RMD Motors, who sold it to a private party in England three years ago. Earlier this year, Rick told Robb Report, "When I sold the bike to the current owner in the UK three years ago, he went through the bike top to bottom. The suspension was reconditioned, the engine has been rebuilt and it recently went through some more maintenance before Kenny Roberts rode the machine up the hill at the 2022 Goodwood Festival of Speed. It's in perfect running condition."

This bike participated in the 2022 Goodwood Festival of Speed this summer as part of Class 15: Two-Wheel Grand Prix Heroes. It was parked next to Wayne Rainey's 1992 championship-winning YZR500 that Wayne himself rode at the event. It was ridden up the hill twice, once by King Kenny himself in his trademark black/yellow leathers.

The bike can be seen returning to the paddock in this video:

It can also be seen in this video at 1:10, 5:36, and again at 14:43:

Web Bike World has a couple of images of this bike at the event in this excellent gallery that we recommend you check out: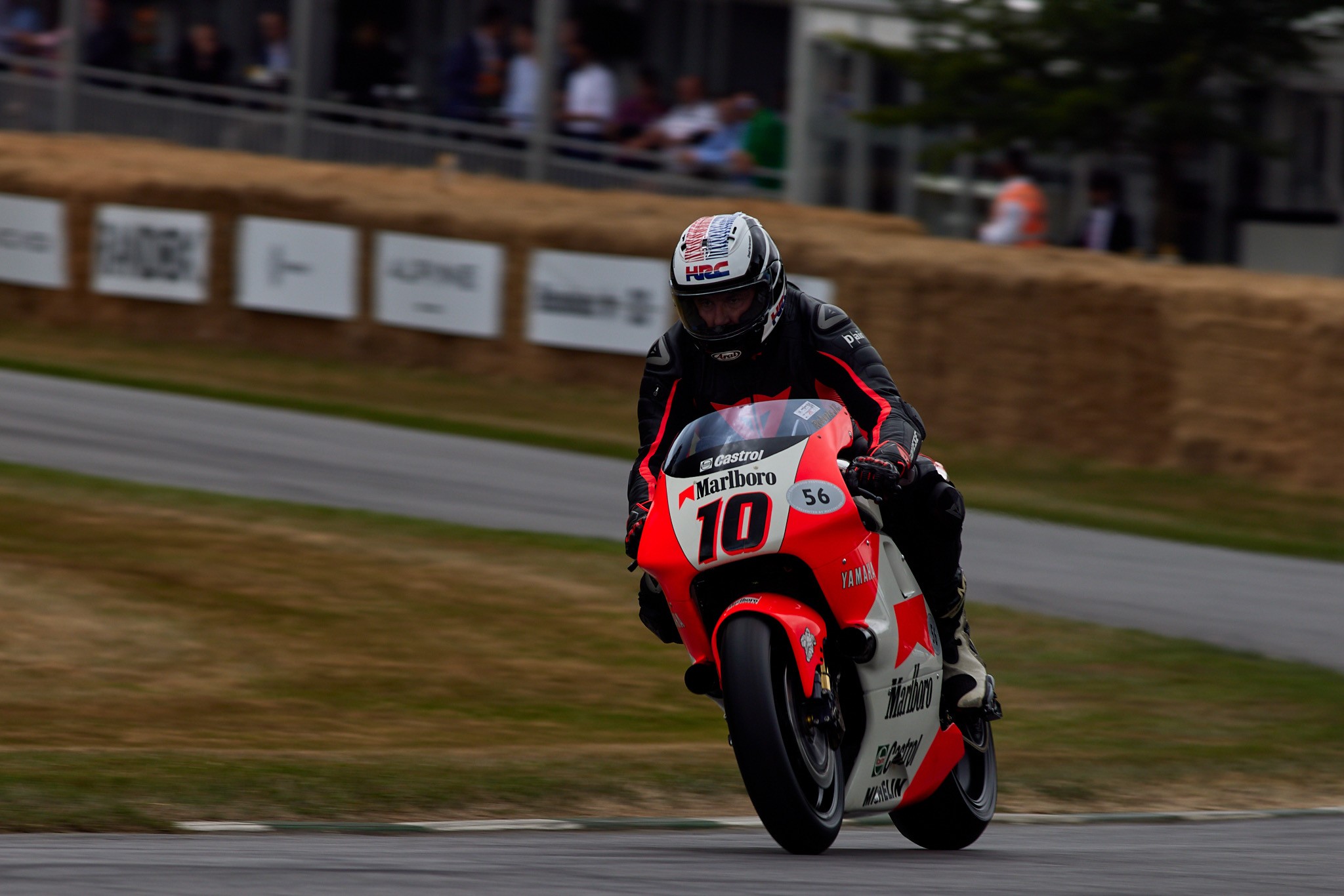 Maintenance:
When the bike came to us, the magnesium water pump cover had previously been removed for storage purposes. Olly re-installed the cover and checked all fluid levels, then we started it up!

Modifications:
It has been signed by multiple legends of the sport – Kenny Roberts Sr., Wayne Rainey, Kevin Schwantz, Dani Pedrosa, and more:

Cosmetic Blemishes: please see the album up top for all known cosmetic blemishes. Here is a selection:

Inside of the tank:

It is riding on Michelin slicks which have aged out.

The sale includes a rear wheel stand.

Currently located at our facility in Santa Monica, California (please make an appointment for an inspection), this Yamaha is offered on a Bill of Sale only. Have any questions about this listing? Let us know in the "Comments" tab!