Description
Additional photos are available here for your perusal.

In 2000, Honda released the T2 Concept as a preview of what they could do if they went nuts with some ideas for a cruiser. The public response was what you'd expect with a crazy concept – it looked interesting but if it ever became a production bike then it would be diluted. Well, we were wrong. Honda released the Rune in 2004 and it's still probably the craziest production motorcycle they've ever built.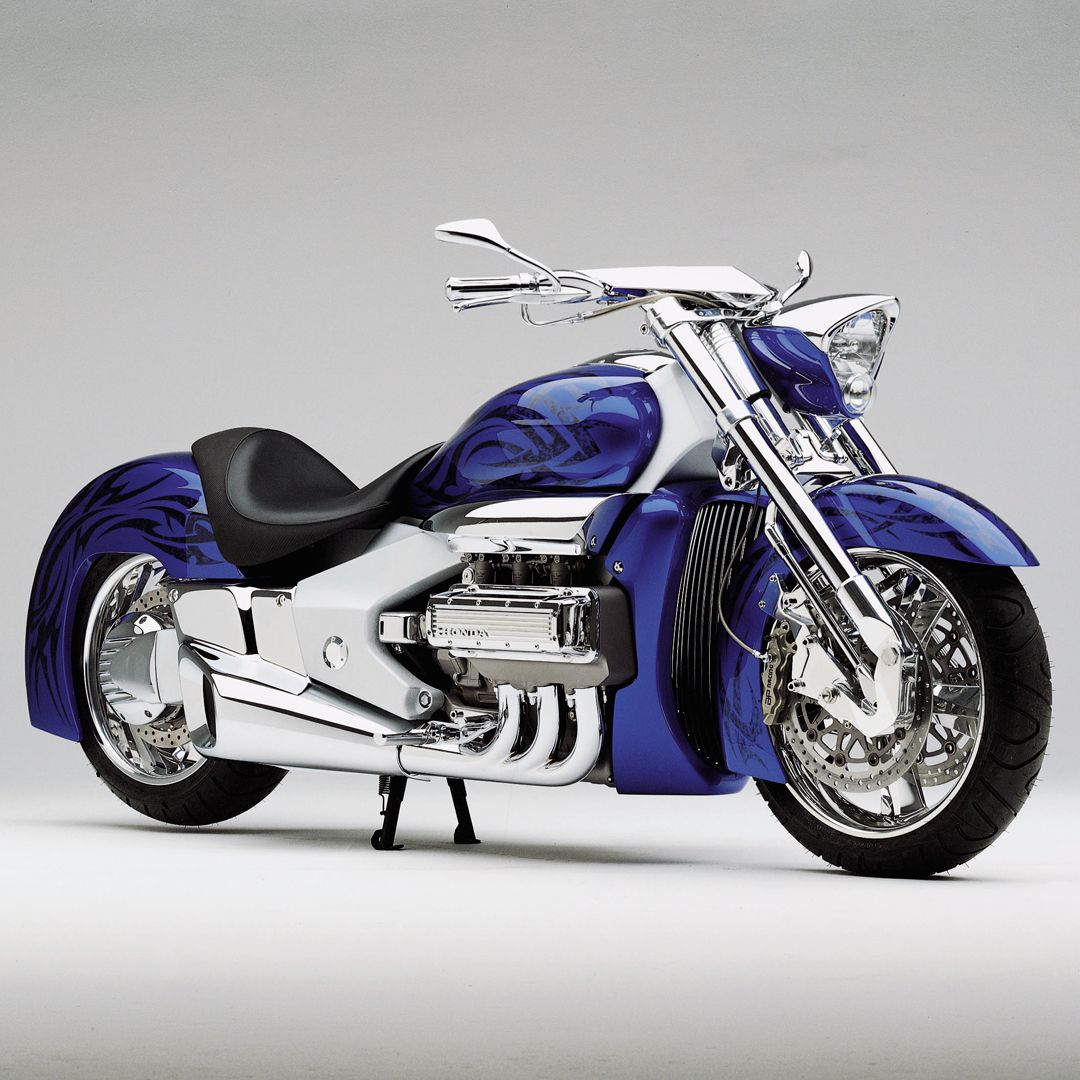 Some styling cues for the Rune actually go back to 1995, when Honda debuted the Zodia concept bike:

The official name was actually the Honda Valkyrie Rune as it was heavily based on the Valkyrie, itself a naked evolution of the venerable Gold Wing. The Rune was specifically designed for the American market and was built at Honda's plant in Marysville, Ohio. In a check out this "Memorable Motorcycle" profile from Moto-USA, Frank Melling notes that "each Rune left the American Honda Plant at Marysville, Ohio, costing the company a reported $100,000 – and sold for just a quarter of that price."

Honda utilized the Gold Wing's engine but beefed it up with six throttle bodies (versus two), more aggressive camshafts, and different tuning. Claimed output was 118 horsepower at 5,500 rpm and 121 ft-lbs of torque at 4,000 rpm.

Also notable was the suspension – the rear Unit Pro-Link was derived from the RC211V MotoGP bike and the front was visually striking due to the trailing link setup.

Paint options on the distinctive bodywork were Candy Black Cherry and Pearl Chromium Purple (also known as Illusion Blue).

Manufactured in May of 2003, this example is VIN: 1HFSC530X4A000313, engine #: SC53E2000635. It was accepted as a trade-in by our friends at Bartel's Harley-Davidson, so the history is not well-known.

The odometer shows 7,535 miles.

Modifications:
This Rune is completely stock.

Inside of the tank:

It is riding on Dunlop D861 tires with date codes of 2817 and 3317.

The sale includes two keys.

The sale also includes the original Honda Rune book.

Cosmetic Blemishes: please see the album up top for all known cosmetic blemishes. Here is a selection:

Currently located in Marina Del Rey, California (please make an appointment for an inspection), this Honda is offered on a clean California title with registration that expired in August 2022. Per the DMV website, it would cost $207 to make registration current through August 2023. Please note that there is a Texas license plate on the bike from a previous owner and it was left on as this was a display bike.

Have any Rune stories or questions about this listing? Let us know in the "Comments" tab!