Description
Additional photos of this MotoGP race bike are available here for your perusal.

For the 2012 season of MotoGP, FIM introduced a class called CRT: Claiming Rule Teams. The name stemmed from a later-discarded concept in which an engine could be "claimed" if it was exceptionally successful. As explained in this Crash.net article, "This is basically an attempt to further limit costs by forcing teams to allow rivals to buy their engine(s), should they wish to do so. The theory was that no-one will use expensive or secretive technology if a rival can literally get their hands on it. Teams wishing to avoid having their engines 'claimed' will need to race under 'normal' status."

The introduction of CRTs allowed smaller, less-deep-pocketed independent teams to race, as participating in the premier class had become so costly that a smaller and smaller number of outfits were able to partake at the top level. FIM officials received over a dozen applications from prospective CRTs, though in the end only nine were green-lit to race.

Unlike regular MotoGP racers, which are entirely prototype/factory-built machines, CRTs campaigned bikes made up of a highly-tuned superbike kit engine wrapped in a prototype chassis decked out with race-spec running gear. The rules were also a bit different for CRTs, such as being allowed to run slightly-larger fuel-cells and getting twice as many engines as the full-protoracers (12 vs 6) over the season. For the debut CRT season in 2012, Avintia Racing (which was already campaigning in Moto2 and Moto3) unveiled a Kawasaki-powered entry wrapped in a frame designed by British experts FTR Moto (Fabrication Techniques Racing Motorcycles). Avintia hired Ivan Silva and Yonny Hernandez to compete, both of whom were rookies in the top level of motorcycle road racing. That year in MotoGP, Avintia was one of two teams with a FTR chassis and the only team with a Kawasaki engine.

The following year, Avintia signed up #8 Hector Barberá. He competed in every race, placing as high as 10th (once at Mugello and once at Laguna Seca). He ended the season in 16th place.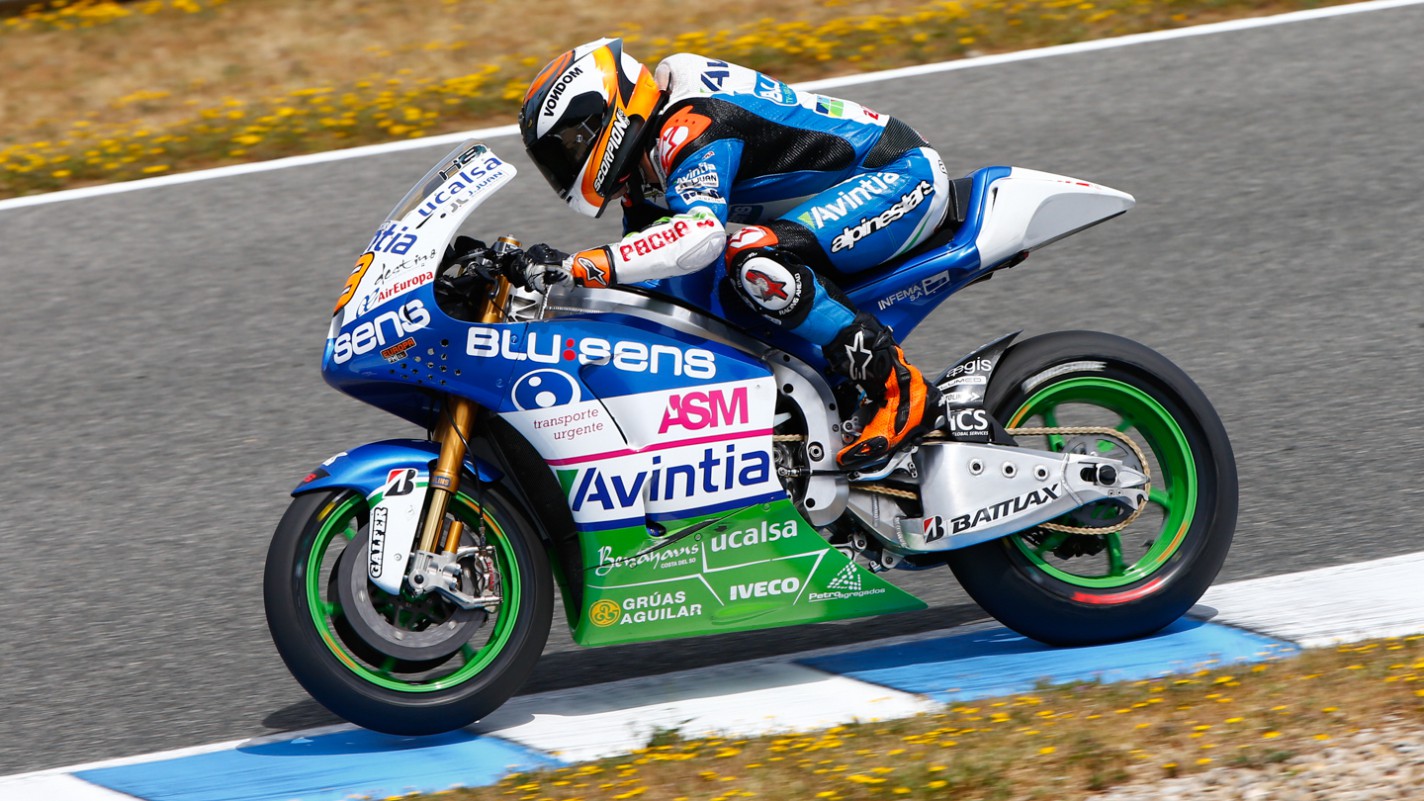 This example is VIN: M112001241102, and it was the bike that Barberá competed on. The seller acquired it ten months ago here on Iconic Motorbikes. The previous owner acquired it seven years ago directly from Avintia/BQR Racing.

The previous owner bought it as a rolling chassis with everything except the engine. "I disassembled it down to the bolt, cleaned everything, and reassembled with a standard Kawasaki ZX-10R engine that was freshened by KWS Motorsports in Charleston, South Carolina."
During his ownership, the seller has covered roughly 100 miles. The odometer shows 754 miles.

We saw the owner of this bike at a SoCal Track Days event at Chuckwalla two months ago, and he let Abhi take it out for a few laps. Abhi says, "I took it easy because it wasn't my bike, but even at my much-slower-than-Hector pace, I was blown away by the minimal effort required to change direction due to that world-class frame and the performance of the carbon brakes (once they got up to temp). I figure it's obvious that the acceleration was tremendous!"

Maintenance:
During his ownership, the seller has flushed the fluids.
Modifications:
It may be silly to have a "Modifications" section for a bike of this caliber, but we just wanted to highlight a few features such as:
Showa forks, Ohlins shock, OZ wheels, Brembo calipers, Brembo master cylinders, carbon rotors.

FTR-optimized chassis.

C-Tech Composites carbon fiber bodywork.

HM dash, Ohlins steering damper.

HM quickshifter.

It is riding on Pirelli 16.5″ slicks – Iconic has these available if the new owner would like to enjoy this bike on the track.

The sale includes the pictured stand.

Inside of the tank:

Cosmetic Blemishes:
As an ex-race bike, there's a few scrapes and scratches to be expected from track usage. Please see the album up top for all images the seller provided.

Currently located in La Quinta, California, this MotoGP racebike is offered on a Bill of Sale only. Have any questions about this listing? Let us know in the "Comments" tab!