Description
Additional photos of this championship-winning Suzuki are available here for your perusal.
We see plenty of great racebikes out there, but not many of them are championship winners! This bike earned its #1 on the front fairing and tail thanks to the riding of Tom Kipp, the winner of the 1994 AMA Supersport 750 Championship.

On this bike, Kipp won 5 races on his way to the crown in the '94 season:
May 21 – Monterey, CA
June 11 – Elkhart Lake, WI
June 18 – Loudon, NH
July 16 – Lexington, OH
September 17 – Braselton, GA

Yoshimura started their prep with a GSX-R750 (VIN: JS1GR7BA9R2100743) manufactured in August 1993.

"It might sound extreme, but Yoshimura's attention to detail is noticeable from the first lap in the saddle. The tight, taut chassis felt more like a pure Superbike racer than the closer-to-production SuperSport bike it is. The firm suspension and steeper chassis geometry make the GSX-R feel light on its feet and responsive yet stable hammering through the fast, bumpy sweepers that send the stock bike wobbling."
"Yosh's MJN carb setup changes the throttle response from the expected constant-velocity soft power delivery to a sudden smoothbore-like hit, with the bike leaping off corners and spinning the rear tire with a purposeful twitch of the right grip." That's what Sport Rider had to say in a February 1996 issue which is currently hosted on Cycle World. A copy of the magazine is included in the sale.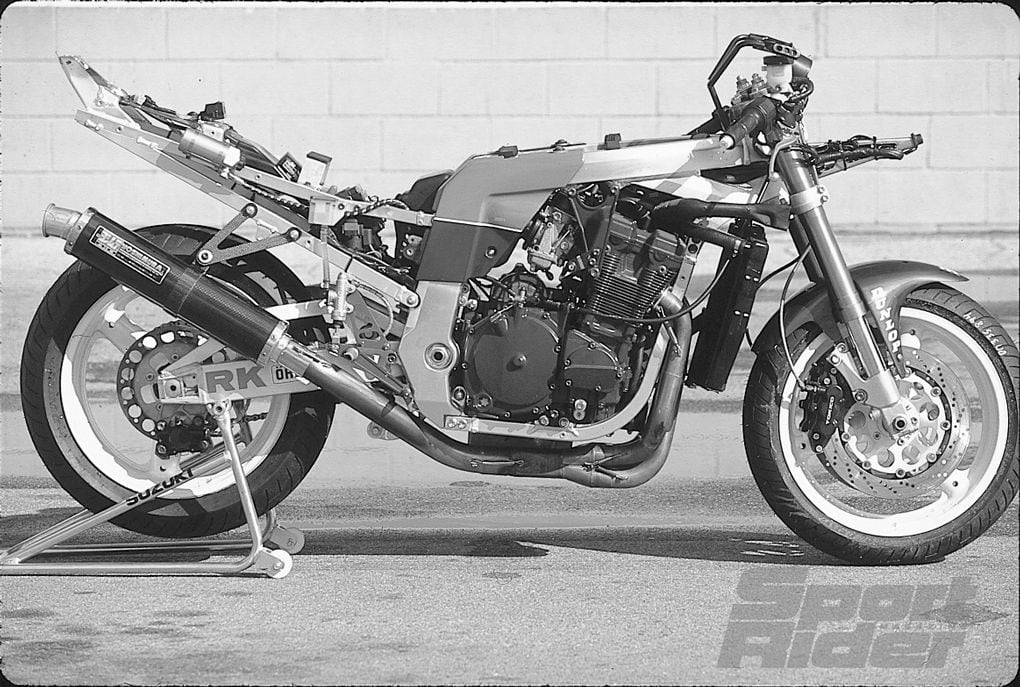 MJN refers to Multiple Jet Nozzle, Mikuni's term for "a perforated metering needle that sprays fuel through a series of holes along its length into the venturi."

This was paired with a Yoshimura titanium duplex system that retailed for $1,380 back in 1994.

Additional work including a valve job and ignition advancer helped bump horsepower north of 120. Sport Rider stated that this bike produces 116 horsepower at the rear wheel, maxes out at 166 miles per hour, and laps Willow Springs 4.5 seconds faster than the stock bike.

AirTech supplied the bodywork, and it surrounds a bike that went on a 66 pound diet compared to the stocker – Sport Rider said this racer weighed just 407 pounds.

Other special components include Yoshimura rearsets.

Yoshimura digital temp meters.

DeChellis Machine case guards.

Fox shock.

And even lighting for street use! Please note that this bike is offered with a bill of sale.

After it won a championship, this bike was sold to a private party by Yoshimura. The current owner is the second private owner, and he acquired it over 20 years ago. He enjoyed this bike for one track day, and then put it on display in his office for years. "Now it just sits in my garage, and I think someone else can enjoy her."

Recently, the seller had the bike serviced "by an ex-Yoshimura master tech" – the work included a tune-up, carb rebuild, new battery, and new tires.

Cosmetically, the seller states that "it shows it racing days very well," noting that there is race rash throughout. New bodywork is still available through AirTech.

Everything on this machine is said to work, though the seller notes that it is missing the steering stabilizer. Otherwise, it's very close to how it was when Kipp dominated AMA 750cc Supersport!

Please note: The seller will be donating at least 10% of the sale price to a charity called Motor Racing Outreach (MRO) – Tom Kipp is a Chaplain there.
In addition, Tom Kipp will personally call and congratulate the winner of this auction – he can talk about the '94 season and his neck and neck battle with Britt for the championship. He will also try to look for any Yoshimura memorabilia from '94 in his closet that he could add to the auction.