Description
Please Note: the sale price of this auction will be donated to Ride For Kids. The standard Iconic Motorbike Auctions buyer's fee of 7% will be assessed. The sale includes everything but the front upper fairing.
To support the Pediatric Brain Tumor Foundation's Ride for Kids, Iconic Motorbikes is auctioning a selection of race bodywork donated by American Honda from their private collection. The sale price of this auction goes to the PBTF to support research and family programs for children battling brain tumors.
Additional photos are available here for your perusal.

In 2010, American Honda announced that it would field a wildcard entry in the new-for-that-year Moto2 class at the Indianapolis GP using a Moriwaki MD600. They had two goals with this project:
1. support the new Moto2 division (which exclusively used 600cc engines that Honda supplied) and raise awareness of it in America.
2. raise money for the Pediatric Brain Tumor Foundation and Ride for Kids.

They tapped Roger Lee Hayden to ride, but the race number came from a different motorcycling legend: Kevin Schwantz. His famous #34 graced this race bike as Schwantz managed the team on behalf of American Honda and it was the first time his number had been used since Schwantz stopped racing in 1995.

Schwantz is a long time friend of Aldo Drudi of Drudi Performance, who designed a very patriotic livery for the Moriwaki MD600 race bike. As Drudi said, "To work with Kevin, who is a friend and a champion, on a project that American Honda is supporting, it was a given that I was honored to be asked to create the graphics. This assignment has been particularly special to me because for a long time I have wanted to create a theme that focused on the stars and stripes of the USA, which turns out to be the perfect match for this project. It is a very exciting opportunity and a project that will be of the highest level."

The bike was unveiled at Laguna Seca in July 2010:
To help raise money for Ride for Kids, American Honda released commemorative shirts and hats for sale – Iconic has auctioned off some of these in the past if you're curious as to what they looked like but we do not have any more available at this time.
Unfortunately, Roger got caught up in a multiple bike crash in the second turn of the race. The team scrambled to get the bike back together (without rear brakes) and Roger was able to finish in 17th place. The below photo is from Sport Rider, which has a wonderful account of the race that we highly recommend you check out.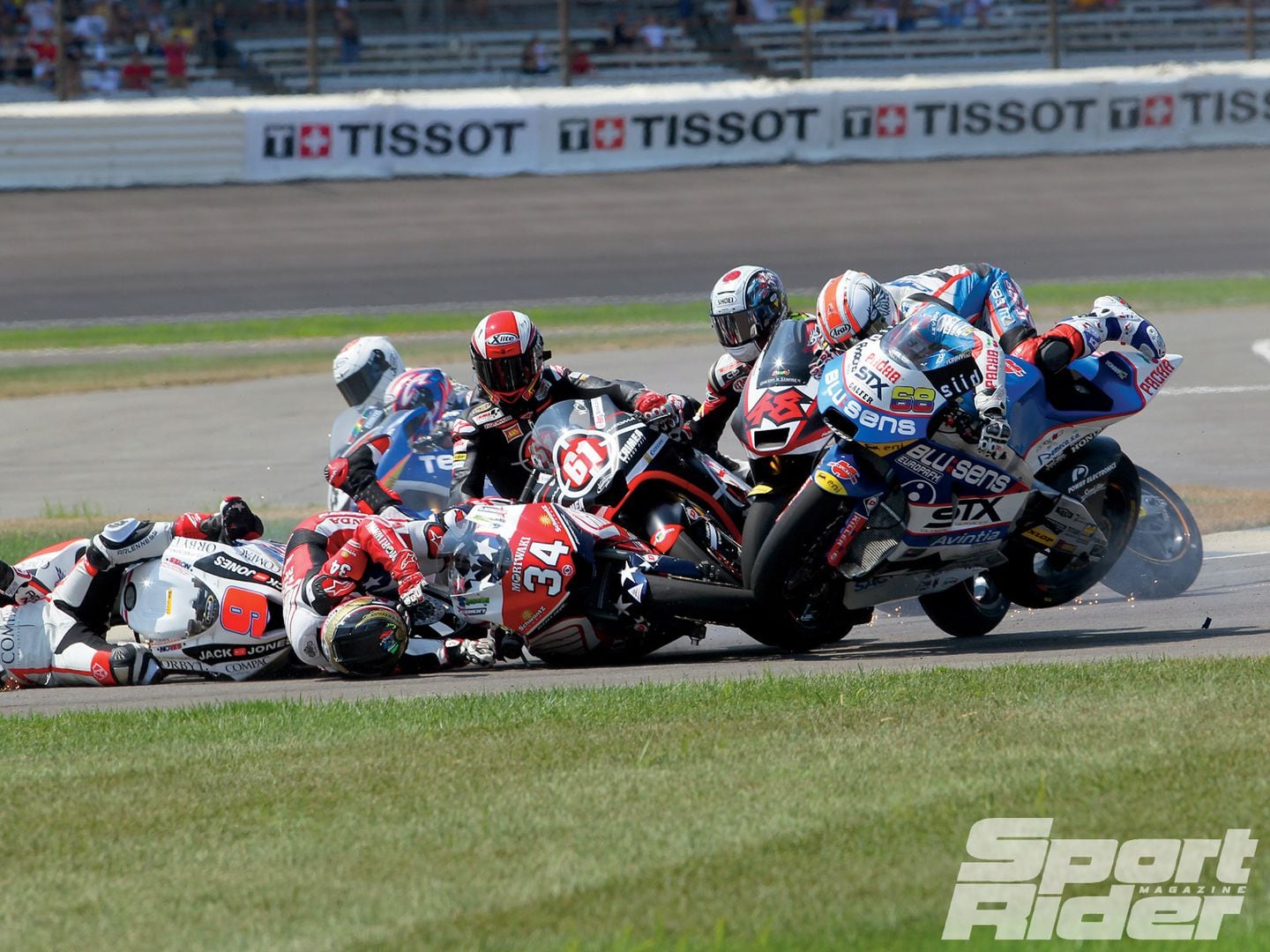 The sale includes the front fender, the side fairings, the belly pan, tank cover, the seat/tail section, two rear fenders, as well as one windscreen.

Cosmetic Blemishes: please see the album up top for all known cosmetic blemishes. Here is a selection:
Please note that the bodywork has yellowed with age.

Currently located at our facility in Santa Monica, California (please make an appointment for an inspection), these fairings are offered on a Bill of Sale only. Have any questions about this listing? Let us know in the "Comments" tab!

Please Note: the sale price of this auction will be donated to Ride For Kids. The standard Iconic Motorbike Auctions buyer's fee of 7% will be assessed.