Description
Additional photos of this YZF750SP superbike are available here for your perusal.
Before the new-fangled internet changed everything, motorcycle magazines had some serious budgets that allowed for fascinating stories and for expensive projects – like racing. As Cycle World put it in their June 1995 issue:
"Why do magazines go racing? Certainly, the spirit of Walter Mitty lives in all of us. We wonder what it would be like to pilot an F-16, to perform brain surgery, to be a star performer in any difficult and glamorous undertaking. But there is more than this. Magazine editors live with motorcycles professionally, riding them, testing them, describing their qualities. What gives us the authority to do this? Yes, we have years of experience, but we all know that this isn't enough. Like Daytona, magazine writing has its classic traps—and the major one is formulaic writing: Controls fall readily to hand…Seat padding was firm without being harsh…Vibration bothered some testers…. Magazine writing at its best can be a letter from one enthusiast to another, but it can also become just a job, a process of filling in the blanks. That has to be avoided."
That is what led to the creation of this bike, a 1993 Yamaha YZ750SP built into a Superbike racer by Richard Stanboli of Attack Performance.
The story of this bike was most comprehensively told in this 1995 Cycle World article, though the publication made several mentions of the machine in later issues.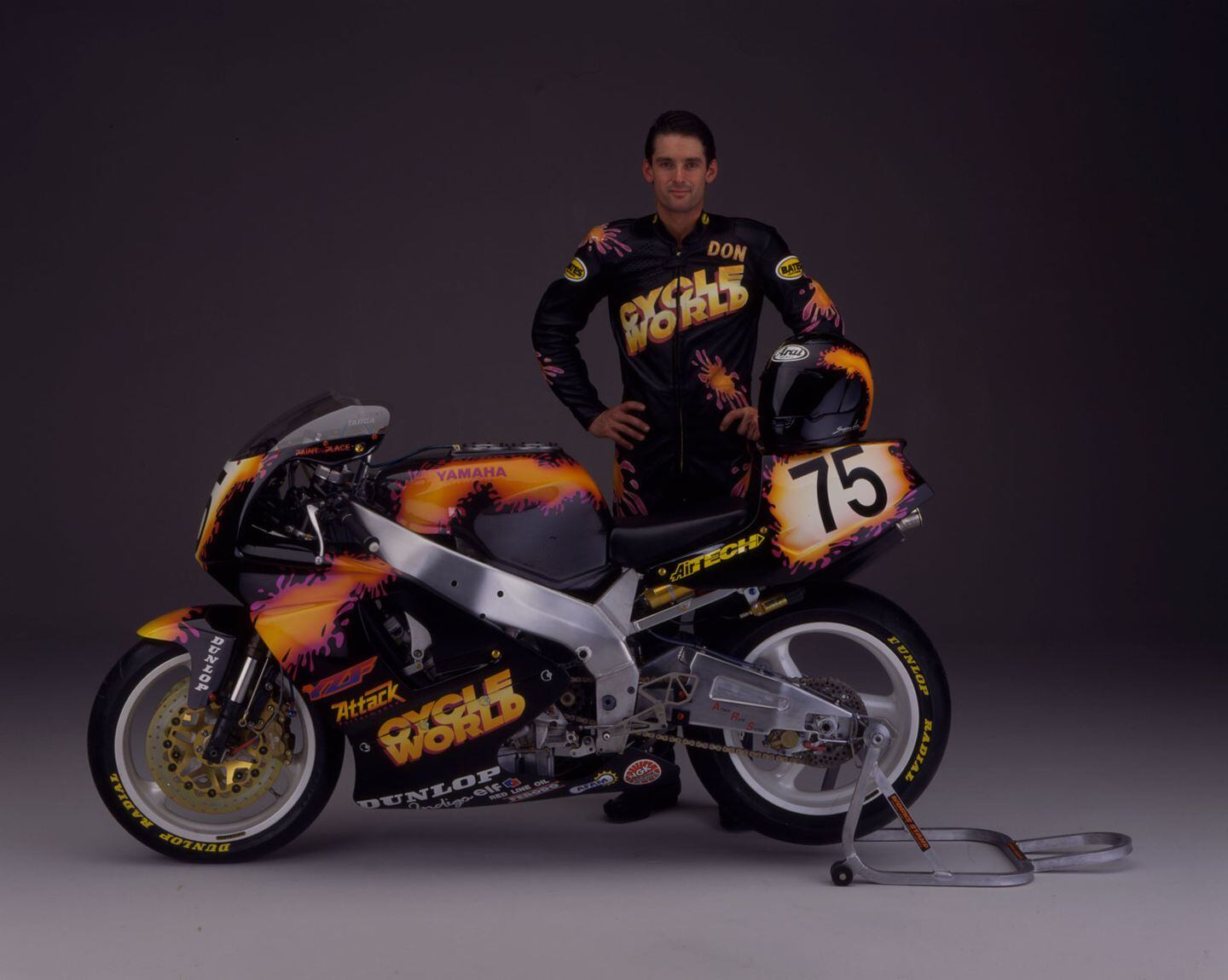 CW editor Don Canet raced it in the Daytona 200 in 1994 and 1995. The 1994 campaign ended with a blown head gasket on lap 28, while the 1995 race unfortunately ended with a crash in turn one of lap four after qualifying 28th out of 80.

As you can imagine, many hours and parts were thrown at this machine. For 1995, the motor was producing 140 horsepower thanks to titanium con-rods with nitride surface coating, Cosworth 13.3:1 compression pistons, and Attack's tuning. Said motor was complemented by a custom billet swingarm, Keihin 41mm carbs, AirTech Streamlining bodywork, Brembo Goldline calipers, Marchesini wheels, magnesium triple clamp, Lindemann Engineering-revalved forks, 6.34 gallon carbon fiber tank, Ohlins shock, and more. Some parts (such as the carbon fiber tank, swingarm, and exhaust – replaced with a V&H SS2-R) have been removed, but this bike is still a great relic from the glory days of Cycle World.

The paintwork was done by Jerry Sievers of Paint N Place (no longer in business).

This Yamaha got another shot at glory in 1995 when Doug Toland raced it at Laguna Seca in WorldSBK, though we are unable to confirm how it finished.

This racebike spent several years in the lobby of Cycle World before it was sold to a private party when the magazine was sold to Bonnier. For the last few months, it has been on display in our private museum at Iconic's headquarters, though we couldn't help ourselves – six months ago we gave it a service plus a fresh set of Bridgestone Racing Battlax tires (V01/V02 front/rear) and took it out for a trackday.

We hope the next owner will continue to enjoy this Yamaha in the same way!