Description
6/1/23 Update: The seller has located the spare, custom-built tank and it will be included with the sale!

Additional photos of this Pegram Racing R1 are available here for your perusal.

In 2013, Larry Pegram (with the support of Foremost Insurance) was able to lease a Graves Yamaha R1 and build a backup. A Graves-built R1 can only be leased for $300,000 – this included the bike, a few engines, and support. The team needed a backup "B" bike, and that was built with Graves parts and their tuners. This is the B bike.

Larry was previously competing in AMA Superbike with a BMW S1000RR (and prior to that, a Ducati 1198R), but for 2013 his privateer team competed with the YZF-R1. Considering that Josh Hayes had won the last three AMA SBK titles on a R1, it was a logical choice. He started strong, nabbing podium finishes at both of the season-opening rounds in Daytona. He would end up finishing 6th in the championship that year.

From a Cycle World article: "I feel a lot more comfortable on the bike, there's no question about it," said Pegram. "Anything Yamaha crafted is going to be top quality and I'm very pleased with how it handles. It's the same brand of motorcycle that's been winning all of the races in the last few years. I can't thank Foremost Insurance enough for allowing me the opportunity to get on such an incredible machine."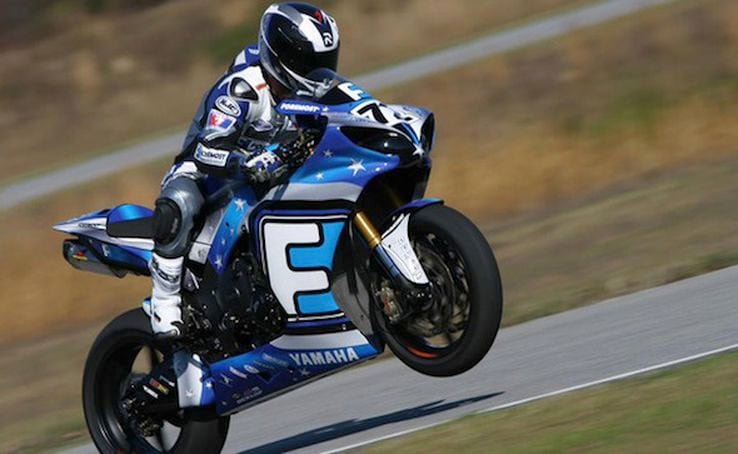 This example is VIN: JYARN23E8DA015000, engine #: N520E019785. The seller purchased the bike from us here at Iconic!

There is no odometer, true mileage is unknown.

Maintenance:
The seller reports that they have no started the bike since purchasing it from Iconic. It has been stored inside, on display. Please note: It will only run on 112 Octane fuel. As Dan Weaver (the builder of the motor) puts it, the bike features "everything that was legal for AMA Superbike in 2013. It will ONLY RUN ON 112 octane race fuel. The ON/OFF switch for the bike is on the left side by the dash. Both the ON/OFF switch and the RUN/STOP switch must be off to keep from drawing on the battery."
Modifications:
The prior owner had over $60,000 invested in the bike after purchasing it and making his modifications.
Gusseted and strengthened frame.

Monocoque tail section.

Custom-built tank.

AMA-spec blueprinted motor (includes a port and polish, thinner upper/lower head gaskets, cams, and a balanced crank) built by Dan Weaver.

OZ Racing wheels.

50mm Öhlins forks ($3,500-$4,000 upgrade and brand new), Öhlins rear suspension.

Brembo calipers and rotors.

Brembo master cylinder.

Pro-Fiber carbon fiber bodywork.

Graves exhaust.

H20 Performance radiator.

Dynojet Quickshifter.

Samco Sport silicone hoses.

Aftermarket switchgear.

Superlite sprockets.

Attack Racing top triple, CNC Racing reservoir.

Renthal handlebars, MotionPro throttle assembly.

Lightech chain sliders.

Puig windscreen.

Inside of the tank:

It is riding on Pirelli Diablo Superbike tires with date codes of 2017 and 0818.

Extras:
Spare, custom-built tank.

Triple clamp with angled races from AMA setup.

Graves rear stand.

Spare rear stand.

Cosmetic Blemishes: please see the album up top for all known cosmetic blemishes. Here is a selection:

Currently located at our facility in Santa Monica (please make an appointment for an inspection), this Yamaha is offered on a Bill of Sale only. Have any R1 stories or questions about this listing? Let us know in the "Comments" tab!